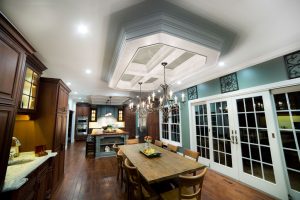 So, you finally decided to remodel your kitchen or add an addition! While big projects like these are very fulfilling in the end, they can be tough to get through. The larger a project, the longer it will take to complete. While we work hard to make you feel comfortable and minimize our presence in your home during construction, there's still the stress of waiting for the project to be finished or not being able to use your kitchen for a while. We understand that this can be hard on some families, so we've composed a helpful list of self-care tips to make sure that you make it through your next major remodel with as little stress as possible.
Preparation is Key
You can minimize stressors from the very beginning of a major remodel by planning ahead. If you're remodeling your kitchen, where will all the contents of your cabinets be stored in the meantime? Preparing for this ahead of time will keep you from being taken off guard when you realize that you still have a whole kitchen of cookware, dishes, and countertop appliances to find a new temporary home for.
Additionally, take into consideration which rooms the installers will be moving through. If they will often be walking through a hallway where you have a very expensive glass sculpture on display, then you may want to find a safer place to store it before the installers arrive. Making sure that everything in your home is in the right place ahead of time will keep you from feeling anxious when the construction begins.
Consider Temporary Relocation
A hotel stay or an extended visit to a family or friend's house isn't always necessary during a major remodel, but it may make you feel more at peace for the duration of the project. We work hard to be as conscientious as possible, laying down protective barriers to reduce the spread of dust and cleaning up after ourselves every evening. Even so, having work done inside your home may be uncomfortable or disconcerting; if this is the case, you may feel more relaxed by removing yourself from the commotion, even if it's just for a few days.
Communication is Key
Good communication is essential for a project to flow smoothly. We have designers and installers who work with you and strive to ensure that you are happy every step of the way. If you ever change your mind about a design or have a problems with an aspect of the installation, then be sure to communicate with us! We're happy to work with you to make sure that you love the finished product that results from your major renovation.