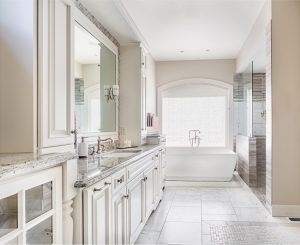 Remodeling your master bath can make a huge difference in your home's value and give you a variety of benefits as well. If you opt for luxury elements, you can create a relaxing spa at home to help you unwind after a long day. If you've considered remodeling your bathroom, here are a few tips to help you along your way.
Start With A Plan
Before you begin any luxury bath remodeling, it's essential to develop a plan and map out whether what you want and what your home can feasibly do will mesh. If you want to put in a new tub or fixtures how will you transport it to the bathroom? If you have narrow stairs or tight corners, you'll need to have a game plan before you even make your purchase. Likewise, if you're looking to add new water features, you'll want to consider if your homes current plumbing can work with the changes. For instance, if you want dual shower heads, you'll need to make sure your supply line can carry enough water to supply both, and that your water pressure level will support them.
Enhance Your Tub
Upgrading to a nicer tub doesn't need to require extra space. While if you want to add in a tub built for two or a separate shower, you may need to increase your bathroom size your luxury remodel doesn't necessarily need much space. By installing a more modern tub with deeper sides you can get all the luxury of a better soak without the larger footprint.
One of the biggest trends in luxury master baths this year is the addition of a steam shower.  If you opt for a glass enclosure around your shower you can get this effect while maintaining a sleek, stylish look.
Elegance With Metal
One of the latest trends in bathroom design that can add a lot of drama and interest is the use of metal and metallic finished items. Tubs, cabinets, wall decor, and tiles can all be areas to use metal or metallic finishes, just be sure that they're all designed for use in a damp environment.
Add More Space
Bathrooms are often designed to take up very little space, but if you're looking to create the ultimate in luxury, a small bathroom can cramp your style. If you have the ability to add space to your bathroom's footprint you'll have many more options when working on your luxury remodel.
Start Planning Your Luxury Bathroom Today!
Find a contractor that specializes in addictions and major renovations, such as Cossentino & Sons. A licensed, experienced remodeling team isn't a luxury; it's a necessity.
At Cossentino and Sons Remodeling & Design, Inc. we are passionate about giving you home improvements that help elevate your lifestyle and add your value to your home. We are a family owned business with an expert and experienced eye for details. We proudly serve Howard County, Maryland. To learn more about how we can help you get your remodel started, visit us online or call (410) 442-0000. To see examples of our work and learn more about how to help your home, follow us on Facebook, Twitter, and Pinterest.