A kitchen remodeling project is a major undertaking for any homeowner. There are a wide variety of components that go into a good kitchen, each one as important as the last. So how can you keep track of all of these major design decisions and end up with the kitchen of your dreams? With a little help from your contractor and this handy kitchen remodel checklist, it is easily done! Read on to find out more.
Keep Track of Your Project with a Kitchen Remodel Checklist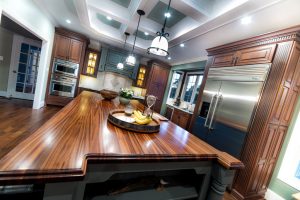 When you and your contractor first begin to discuss your plan for your kitchen remodeling project, it is important to keep track of the various details and decisions to ensure that nothing is left out. As you plan together, make sure that you have considered the following things:
If part of the goal behind your remodeling project is to increase the amount of available space in your kitchen, you need to discuss with your contractor how best to do that. Will you be utilizing existing space in your home or opting for an addition? Either way, the issue of how much space your kitchen will take up is one that will play into nearly every other aspect of your redesign project.
When it comes to the details of your kitchen remodel, why not start from the ground up? With the wide array of flooring options from hardwood to tile available to you, it is important to decide which one will best complement the rest of your kitchen's design.
As the main source of storage space in your kitchen, your cabinets are extremely important. Think of how you would like to organize your space and what kind of cabinet style you feel will work well with the rest of the room.
Whether they are made of granite, marble, quartz, or any other kind of material, your countertops are your primary workspace in the kitchen. Make sure that you select countertops that are both beautiful and functional!
From your fridge to your oven to your dishwasher, every appliance in your newly-remodeled kitchen should be of the highest quality. Discuss the different options with your contractor and learn how these appliances can be incorporated seamlessly into your kitchen!
Bearing in mind this basic checklist, you and your contractor can proceed with your remodeling project so that you are left with the kitchen of your dreams!