No one should have to feel cramped and cluttered in their kitchen. If this sounds like you, don't you think it's time for a remodel – or even an addition? These days, open-concept kitchen designs are more popular than ever and can create a beautiful, uniform, and integrated look throughout your entire home. The light, bright, and airy open kitchen design will have few or no interior walls and opens up directly into your living room or dining room, making the entire space feel larger and more comfortable. Thinking of a kitchen renovation in your home? Keep reading to find out if an open kitchen design is the right choice for you.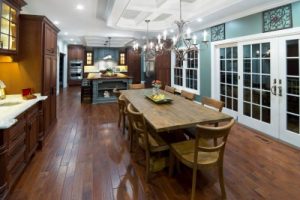 Modern Living with an Open Kitchen Design
There are many advantages to including an open kitchen design plan in your home. Here are just a few:
When you work with Cossentino & Sons, you'll have the option of choosing or even sketching out a design for your new open living plan. You have total control over how the kitchen is styled, from arrangement and where your appliances go, to your flooring and storage. While you're knocking down walls and opening up the space, you have the option to remodel the rest of the area to match your brand new open design kitchen, or put on an addition to give you even more space!
If you don't want or need an addition, an open kitchen plan is a great way to make you think you have more space, even if your square footage remains the same after the renovation. You'll be able to move around freely, unrestricted by walls. No more struggling to squeeze your bags of groceries in through a cramped entryway, either!
Improved Lighting and Air Flow
Unlike other closed kitchen plans, open kitchens allow light and air to flow freely throughout your home. Without walls to obstruct it, cool air and natural lighting from one open window can find its way throughout your entire floor. You'll also save money and energy on lighting your home – with nothing blocking its way, the light can travel much further.