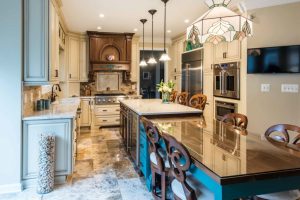 The new year brings new advancements in technology and design, with no exception to home renovations. From smart home technologies to modern reinventions of classic designs, 2018 offers homeowners a variety of sleek and luxurious commodities. If you're planning a kitchen remodel, consider upgrading to a center island with an attached table to maximize functionality and maintain a modern aesthetic. Learn more about this popular design trend!
A Smarter Way to Use the Space
Attaching a table to the center island provides comfortable table height seating without taking up space reserved for cabinetry or a deck entryway. It allows the designer to open up the space, making room for other additions to the kitchen such as a detached bar or television. The kitchen is the heart of the house, and most modern-day homeowners prefer a spacious, elegant, clutter-free space to cook, relax, and entertain.
A Modern Twist on a Classic Design
Traditionally, kitchen islands served as a place for families to prepare meals. As houses became larger, the kitchen island evolved with the times. The small, freestanding piece of furniture is now a larger, more important aspect of the kitchen. Kitchens are designed around the center island and are even created with modern families in mind. Attaching a table to the island is just one way to modernize the classic kitchen island design.
Creating a Cohesive Kitchen
The kitchen serves many purposes. It's a place where families cook and eat dinner, but it's also a room where friends meet to enjoy a bottle of wine and relax. A modern-day, luxury kitchen needs to be a cohesive space that is as functional is it is beautiful. Homeowners need a place to store their pots and pans, but they also need plenty of room to unwind and entertain. Attaching a table to the center island creates a harmony environment conducive to the needs of a modern-day family.