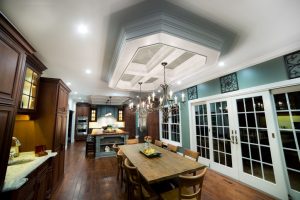 Your kitchen remodel is an exciting, time-consuming, and costly project—so you don't want to do it more than once! Luckily, there are several things you can do throughout the process to make sure that you end up with a successful kitchen remodel that you love. Here are our top tips!
Take Time to Brainstorm and Discuss
Don't rush into the kitchen remodeling process without putting a lot of thought into what you don't like about your current kitchen and what you do like about your current kitchen. Every detail matters, so don't hold anything back when you meet with the kitchen design professionals at Cossentino Remodeling. Think of your daily habits and routines, your entertaining needs, and even things you think are out of the question budget-wise, as you never know what's possible until you ask.
Consider Your Countertops
Many people have an ideal countertop in their mind, and many times it's purely an aesthetic choice and not a practical one. Think of what you actually use your kitchen countertops for in order to ensure you have a successful kitchen remodel. Who uses your kitchen and what do they use it for? Families with young kids scribbling all over have very different needs than older single adults who love to cook. Talk to your designer to make sure that your kitchen countertop material or materials match your lifestyle.
Incorporate Enough Space
The last tip to ensure a successful kitchen remodel is incredibly important when you have a lot of goals and not a lot of space. If you want a kitchen remodel that gives you more space to move around and use your kitchen, make sure that you allow for the space! If you go in with a laundry list (or grocery list) of things that you want and also want to increase space, realize that some things might not be possible. Your kitchen designer can help maximize your space and add in new things, but both are not always possible at the same time.
If you want to have your cake and eat it, too, you can consider a bump-out. A bump-out is an addition to a narrow space that widens and opens the available area. Kitchen and family room bump outs are especially popular, as these spaces tend to be narrow. Adding extra space to what is already available is the perfect way to ensure you have enough space for family living.