Most homes have basements, but not so many have beautiful finished basements that they'd want to spend time in. If you're concerned about the lack of space in your home, it may be time to go for an upgrade. Additions are one option, or you could consider remodeling an existing room in your home. Many people have plenty of unused space in their basement just waiting to be discovered. Turn your empty concrete cave into a beautiful living space with Cossentino and Sons basement remodeling today!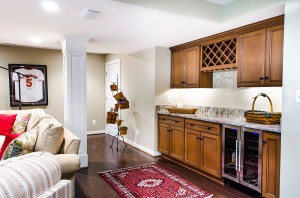 Transform Your Basement Into…
A guest room or apartment
A cement-walled room filled with boxes and storage is one vision, a cozy, carpeted room with a comfortable sofa and unique decorations is another. It's fairly simple to transform your basement into a guest room if you take three important components into consideration: walls, floor, and furnishing. Frame out your ugly cement walls with drywall painted in a bright or neutral color and add unique accessories and furniture to create a comfortable living space for a guest or even a tenant.
If you work from home frequently, you'll know that it can be easy to get distracted. Whether it's the kids, your pet, or your spouse, there's always someone who seems to want to keep you away from your work. When you transform your unfinished basement into a home office, you'll have the peace and quiet you've been longing for. A home office doesn't really take up that much space – so use what you have left over for a home gym, family room, or guest room!
A heated basement can be a cozy place to curl up on the couch to watch movies during the colder months. Simply finish your walls and flooring, add a nice flat screen TV and comfy couch, and that's it! You have the ultimate cozy entertainment zone in your home, and you didn't even have to build an addition.