Sure, you shouldn't judge a book by its cover – but that saying doesn't always apply to neighbors and potential homebuyers. When it comes to your home, the first thing that people see is the exterior. That is, they see the chipping paint, the faded siding, the outdated doors and windows – isn't it time you had exterior renovations done to your home? Other than the obvious benefit of curb appeal, there are several other unexpected reasons that you may want to consider updating the exterior of your home. What are they? Let's find out!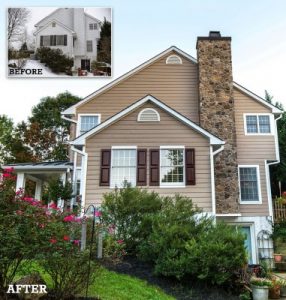 4 Reasons for Exterior Renovations
Sense of pride
A benefit of exterior renovations you may not have thought of is increased pride in yourself and your home. When you come home from a long day at work and have to look at an old, outdated house, it's likely to affect your mood negatively. However, the opposite is also true: With a newly designed exterior, you'll be proud to live there!
Increase the value of your home
Of course, the first reason to undertake a whole house exterior renovation is for your enjoyment, but in the future, should you decide to downscale due to empty nesting or retire and move to another area, your home will not only have increased in value, but will also attract a buyer's attention.
Less home maintenance
Many homeowners make renovation decisions based on what will require the least amount of upkeep and maintenance down the road. Replacing your siding with vinyl siding is a great option to lessen your home maintenance because it requires nothing more than an occasional cleaning with some mild soap and your garden hose. Replacing wooden trim with maintenance-free vinyl trim such as AZEK will also reduce upkeep and ensure that your exterior always looks attractive.
Save on energy bills
Believe it or not, some exterior renovations are actually great to help with cutting costs when it comes to your heating and cooling bills. One of the best investments you can make is in new quality window installation, such as Andersen.  Great windows, properly installed can slash your energy bills and provide a tax credit.