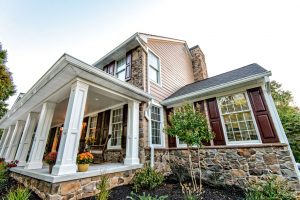 The interior of your home has been primped and polished with tasteful decor and family photographs. You arranged the furniture carefully, and the most recent paint color is tying the rooms together beautifully. You've taken the time to make your house a home, but have you considered updating its exterior? Discover how a exterior home renovation could benefit your Maryland home in the following ways.
Aesthetic
When you decide to update the exterior of your home, you're given a chance to provide it with an entirely different look. Cossentino & Sons can offer a variety of different materials, from vinyl to fiber-cement. Our designers will take the time to hear your vision, and transform the exterior of your home into a welcoming and unique space.
Energy Efficiency
Updating the exterior of your home may change its appearance, but it will also improve your home's energy efficiency. Outdated siding can allow hot and cold air to escape from your home, which subsequently raises your energy bill. Stay warm during the winter, and cool during the summer with a home exterior renovation.
Low Maintenance
If you are the owner of an older home, you understand that things start to decay and fall apart as they age. An exterior renovation is a perfect alternative to time-consuming maintenance. Ask your contractor about low maintenance material options that will last for many years to come.
Add Value
An exterior home renovation can increase the overall value of your home if you choose to resell down the line. According to the Remodeling Magazine's Cost vs. Value Report, a siding replacement will recoup 77% of the home's cost at resale while a roofing replacement will recoup 71.1% of the initial cost.
Security & Safety
An updated home is a more secure home. By updating your windows, doors, and other entryways, your home and property will be less prone to break-ins.