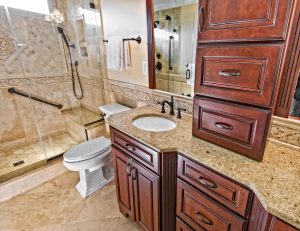 While a vintage bathroom can be charming and full of traditional fixtures, i.e.  kitschy knick-knacks and clawfoot tubs, vintage and outdated are two very different things. If you've lived in your home for a while or are just struggling to align your retro style with modern tastes, it can be difficult to tell if you have an outdated bathroom.
Look Down
Is the flooring in your bathroom appropriate for the space? If you have carpet in your bathroom, it should be replaced with tile or laminate flooring that will last for years. Bathroom flooring should be able to cope with large amounts of moisture, heavy foot traffic, and be easy to clean. Chances are, if you have carpeting you have an outdated bathroom.
Colorless Countertops
Are your bathroom countertops boring and faded neutral or pastel shades? Mauve is a sure sign that you've got an outdated bathroom on your hands. Get rid of plain and boring Formica countertops and replace them with natural stone or quartz countertops that bring beauty and durability to the bathroom. Incorporating earthy neutrals into your bathroom design and décor will quickly bring your outdated bathroom into this decade.
Boring Fixtures
Are the knobs on your faucets or in your shower clear? Is your showerhead beige or off-white? To modernize your outdated bathroom, think of crisp clean lines and modern metals. Use white fixtures or sleek metals like chrome or nickel. If you have the budget to remove a sunken and old bathtub with a gorgeous free-standing tub, it's a fantastic way to upgrade and update at the same time.
Oak All Over
While oak is a beautiful and durable wood that's well-loved by many, it can be a little bit tired when it's used throughout an outdated bathroom. Consider refacing or replacing your bathroom cabinets with updated neutral colors or an up-to-date wood finish.